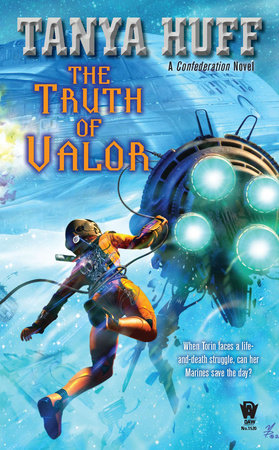 I fell hard for Gunny Sergeant Torin Kerr in Valor's Choice, the first book in Tanya Huff's space opera series. Action-packed, unique and unpredictable with one kick-ass character is what caught my attention. I then devoured the next three books in the series: The Better Part of Valor, The Heart of Valor, and Valor's Trial.
So when this book came out, The Truth of Valor, I was thrilled.
Huff threw us into a new aspect of Kerr's life as she tries to adjust to being a former Marine. Kerr kicks ass as much as ever, and I hope the series will continue. I will certainly keep reading.
Although this novel did not surprise me as much as the previous books in The Confederation Novels, there was still a lot of action, and a lot of fun. The imagination is superb, and it's an above-average read.
If you haven't discovered the Confederation Novels yet, I envy you reading them for the first time. They rock.
This is definitely a series I recommend.